Adam Dixon: Adam Smith Chair in Sustainable Capitalism
Professor Adam Dixon is responsible for developing and leading academic research at Panmure House on sustainable capitalism, focusing inter alia on the role of the global finance industry, the role of the state, and the role of corporations. Trained as an economic geographer and political economist, Adam brings an interdisciplinary perspective to this work.

Previously, Adam worked at the University of Bristol and Maastricht University in the Netherlands, where he led a large European Research Council project on sovereign wealth funds.

He holds a D.Phil. in economic geography from the University of Oxford, a Diplôme (Master) de l'Institut d'Etudes Politiques de Paris, and a BA in international affairs and Spanish literature from The George Washington University in Washington, DC.

LinkedIn Profile
Sustainable Capitalism
Capitalism is an innovation and growth machine. But such dynamism does not mean capitalism is perfect. We cannot assume capitalism will necessarily improve well-being and support human flourishing. We cannot ignore environmental damage and degradation. We cannot ignore high levels of inequality and limited access to opportunities both nationally and globally. Nor can we ignore the philosophical dilemmas posed by a rapidly changing and dynamic world.

Sustainable capitalism is a form of capitalism that supports human flourishing and well-being, now and for future generations. It values our environment and natural world, is inclusive and lifts up those most in need, allowing them to share in capitalism's dynamism.

At Panmure House, we conduct innovative research that informs debate and practical solutions, driving forward a more sustainable form of capitalism. Our research is based on engaging in close and sustained dialogue with businesses, investors, and governments. Like Adam Smith and his contemporaries of the Scottish Enlightenment, our thinking is broad, long-term, and interdisciplinary, bringing together insights from across the sciences, social sciences, and humanities.

The challenge we face is how to solve global problems in an increasingly fractious environment. Global rivalries and tensions between major powers have intensified. Liberal democracy is on the back foot the world over. China has shown it is possible to combine dynamic capitalism with an authoritarian state, projecting values and norms that are at odds with those of liberal democracies.

Democracies need to protect and advance liberal values, including political, economic, and social freedoms. But we also share the world with so many others. We have to work together to support inclusive and responsible growth. The question is how do we work together without compromising our values and interests.

Research at Panmure House is divided into three overlapping streams:


Sustainable finance and investment

This stream explores how capital markets can foster long-term sustainability in environmental and social spheres.


Sustainable and inclusive innovation

This stream examines how sustainable innovation is fostered and diffused regionally, nationally, and globally.


Leadership and sustainable capitalism

This stream engages leaders in business and government to redefine leadership for sustainability.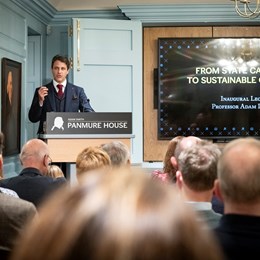 Inaugural Lecture by Professor Adam Dixon
Our Adam Smith Chair in Sustainable Capitalism, Professor Adam Dixon, gave his inaugural lecture at Panmure House on Thursday 19 October 2023. Entitled From State Capitalism to Sustainable Capitalism, Professor Dixon unpacked the nature, drivers and logics of the new state capitalism. The recording of this lecture including the Q&A session is available to watch now.
Watch the Lecture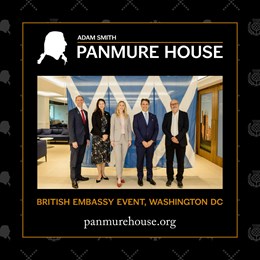 Panmure House at the British Embassy, DC
On Thursday 21 September 2023, Professor Adam Dixon and Panmure House hosted an insightful exploration of how the timeless wisdom of Adam Smith continues to shape our world. Taking place at the British Embassy in Washington DC, our esteemed panel brought their unique perspective, fuelled by quotes from the father of modern economics himself, sparking lively discussions on the relevance of his ideas today.
Panmure House at the British Embassy, Washington DC