EXCELLENCE IN ECONOMIC THINKING
In this high-calibre lecture series the world's best economic thinkers, practitioners and Nobel Laureates return to the birthplace of modern economics to deliver original keynote lectures of global relevance.
Baroness Minouche Shafik gave her lecture on April 20 2023 in person at Panmure House. It was also recorded and it can be viewed in full below.
Baroness Minouche Shafik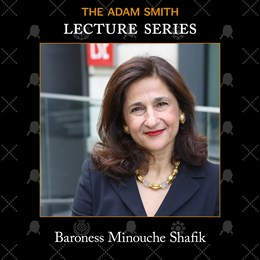 Nemat (Minouche) Shafik is a leading economist whose career has straddled public policy and academia. She was appointed Director of the London School of Economics and Political Science in September 2017. 

She did her BA at the University of Massachusetts-Amherst, her MSc at LSE and her DPhil at the University of Oxford and, by the age of 36, had become the youngest ever Vice President of the World Bank. She taught at Georgetown University and the Wharton Business School and has published widely. She served as the Permanent Secretary of the Department for International Development from 2008 to 2011, Deputy Managing Director of the International Monetary Fund from 2011-2014 and as Deputy Governor of the Bank of England from 2014-2017, where she sat on all the monetary, financial and prudential policy committees and was responsible for a balance sheet of over £500 billion. 

Minouche has sat on and chaired numerous boards and currently serves on the Board of Trustees of the Bill & Melinda Gates Foundation, the Supervisory Board of Siemens, the Council of the Institute for Fiscal Studies, the Global Board of BRAC, and is Deputy Chair of the Board of Trustees of the British Museum. She was made a Dame Commander of the British Empire in the Queen's Birthday Honours list in 2015, a Crossbench Peer in the House of Lords in 2020, and an Honorary Fellow of the British Academy in 2021. 

Her book What We Owe Each Other: A New Social Contract is out now.
Produced by Vision Events